A couple of months back I tried the Frugal Real Food Meal Plan and I'm excited to tell you about how it went for us! If you haven't heard of it before, it's a monthly meal plan geared towards eating healthy real food on a budget. Lots of from-scratch recipes, homemade staples and it includes breakfast, lunch and dinner, as well as some homemade desserts!
The Gist:
55+ Meals for a full 30 day Real Food Meal Plan
Includes Breakfast, Lunch, Dinner and Desserts
Main bulk shopping list + short weekly shopping lists for perishables
Most of the shopping will be done at the beginning of the month
Weekly Meal Prep task lists that allow you to prepare in advanced without having to do it all at once!
Highlights which meals are best for hosting company and meals that freeze well
If you want to learn more about the specifics, check out the website. Plans start at $10 per month.
MY LATEST VIDEOS
The Meal Plans:
Healthy and tasty meals were the focus of the meal plan, and we were definitely not disappointed! The recipes were a nice change of pace to what we usually eat, but were approachable and all ingredients were easily found at chain stores like Target or Aldi. Out of the entire meal plan there was one meal that left us a little nervous to try – and as luck would have it, that turned out to be our favorite recipe from the meal plan and we've made it several times since then!
Most of the recipes took longer to cook than I typically spend in the kitchen. I'd say about an hour per recipe, sometimes more. This is because every meal includes homemade components. So naturally, it's going to take longer to prepare.
Most importantly, for me at least, is that it's "real" in the sense that these are meals that we would actually eat and were comfortable preparing. It wasn't wasteful, and while the meals were interesting, it doesn't try to get so fancy that it's impractical for someone that already shops frugally. So aside from the time savings, the realistic menu was probably my favorite feature.
The Shopping Lists:
There are four shopping lists… one for each week, which includes the fresh perishable items that you need to complete the meal plan. These are very short and you can likely pick these up in about ten minutes at the store. There's also a larger pantry/staples bulk shopping list which you're supposed to shop from at the beginning of the meal plan.
The shopping list is laid out very well and things just make sense. It isn't assumed that you'll have most of the pantry staples on hand, everything is included in the shopping lists and includes suggested price points to help steer you in the right direction. I was very happy to see this because I've tried meal plans in the past where not-so-basic items were expected to be in the pantry, and it really drove the cost of the meal plan up for us.
What I Loved:
I loved that Tiffany (the creator of the meal plans) stresses using what you have. You all know I'm such a big believer in shopping your pantry first. And she encourages you to meal plan flexibly by shopping your kitchen first and offering suggestions for possible substitutions. Also, just about everything is made from scratch. This includes things like yogurt, salad dressing, bread, etc.
Obviously, I also loved that the work was done for us and that we were eating creative meals every single night!
What I Didn't Love:
As much as I love this meal plan, there were two things that personally didn't work great for us. It required a lot of butter. Speaking as someone that doesn't typically eat real food to this extent, it was a bit of a shock for us to use so much butter on a weekly basis.
The meal plan is also not meat-heavy (which is a great way to control grocery spending!). But I did feel as if a small portion of the money allocated towards cheese would have been better served for purchasing an extra pound of meat. These are clearly our own personal preferences, since we don't typically spend much on cheese and do most of our cooking with just a bit of olive oil.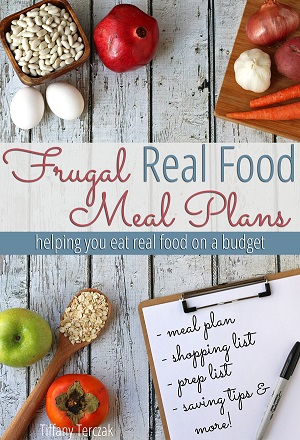 Overall, I can't say enough positive things about this! I totally recommend Frugal Real Food Meal Plans to anyone that wants to prepare healthier meals on a budget and wants to save time in the process.
Though we did receive a review copy of the meal plan, the cost is only $10 per month and we definitely saved more than that so the cost is more than made up in the savings at the store.
There is also a free 14 day sample meal plan if you'd prefer to give it a test run to see if it's the right fit for you!